Content Management
We enable you to edit your content at any time you want by implementing content management systems such as TYPO3, Drupal or WordPress. We can even program a custom CMS just for you!

There are cases where a static site will work fine, but for most businesses or artists it is very much recommended to go this path, so your webpage can be updated more easily. By using open source systems the costs for you are being reduced by quite a bit. This also means you will not be forced to pay recurring fees for updates and maintenance of your website to some third party.
Always stay up to date
Through the opportunity to always communicate recent news in time you maintain a direct contact to your clients and leave a lasting positive impression. You will be able to keep your products and services "up to date" easily to reflect any changes.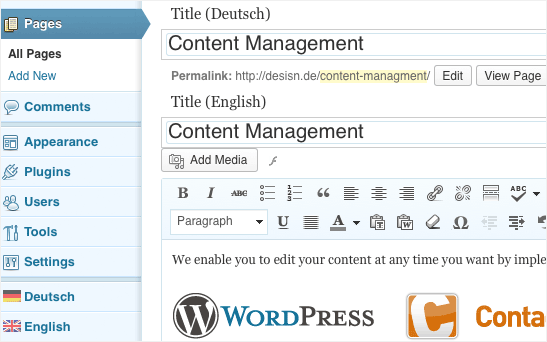 Example: WordPress Editor for this page
Custom programmed solutions
It is also possible to develop your own Content Management System that is specially programmed to fit your needs. For example we have developed a member management system for the Berlin Surgeons Association, which makes it possible to automatically generate newsletters from the members database and thus saving a lot of time each year. Member data can now be managed online from everyone in the executive council and payment cheats for the yearly recurring can be generated as well.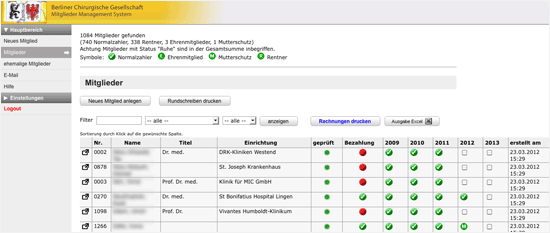 Example: Member Management System for the Berlin Surgeons Association